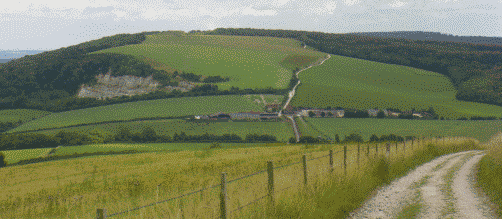 The South Downs around Midhurst
Midhurst is well positioned for exploring the magnificent chalk hills called the South Downs.
In particular, the 100 mile long South Downs Way, which runs just a few miles south of Midhurst provides wonderful walking and mountain biking opportunities.
While walking you can enjoy breathtaking views, especially to the north towards Midhust and the Rother Valley and Sussex Weald.
The South Downs Way is an ancient track and you get a strong sense of history while walking along the way, particularly in midweek when there are fewer people around.
There's a bus stop above Cocking where the number 60 bus (the one to Chichester) stops, generally twice an hour.
For more details about the South Downs Way, we recommend this guide to the South Downs Way in West Sussex.