Petworth
Just eight miles east along the A272 from Midhurst, Petworth is a similar sized town which is worth a visit if you are visiting the Midhurst area.
Petworth is perhaps not as attractive as Midhurst, and has a dark brooding feeling in winter when the weather closes in, but it has some excellent attractions and is especially pleasant in summer.
Foremost among attractions is Petworth House, a mansion that contains an extrememly fine collection of paintings by Old Masters. Run by the National Trust, Petworth House and its extensive grounds deserves to be one of West Sussex's leading tourist attractions.
If you're making the trip from Midhurst to Petworth, then the Petworth Cottage Museum (below) is also worth a visit. The museum is a recreation of a 1910 estate workers house, complete with all sorts of period paraphernalia.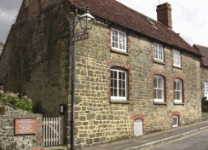 Petworth is one of the UK's leading
antiques
centres - there are over 40 antique shops in around the town. Prices range from the affordable to the astronomical. There are some exquisite items on display in the town and a morning cruising the antique shops is a great way to spend a rainy day.
Petworth is becoming a good place for other specialist shopping too, with some good boutiques, a delicatessen and an assortment of other interesting shops.