Hotels in Midhurst
There is plenty of high quality accommodation available for visitors to Midhurst and the neighbouring parts of West Sussex.
As well as several good hotels in and around Midhurst, why not try one of the excellent bed and breakfast establishments listed below.
Top Midhurst Hotels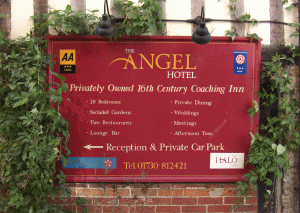 The Angel Hotel
The Angel is a large former coaching inn which can trace its history back to the 16th century. Rooms are large, comfortable and have plenty of variety. There is a good bistro and the Angel also offers conference facilties and hosts wedding parties.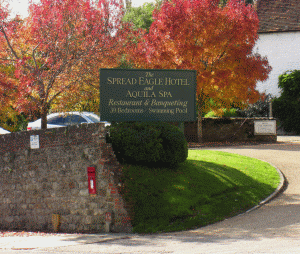 The Spread Eagle
The Spread Eagle is also very fine establishment, with a particularly good restaurant and plenty of character. The Spread Eagle has now established a good reputation as a spa: the facilities on offer at the Aquila Spa include swimming, gym and a range of beauty treatments. Spa Packages are available.
Also recommended is the
Southdowns Hotel
just outside Midhurst in lovely countryside near Dumpford
Other accommodation in Midhurst
Eaglet Cottage
Smart Grade 2 listed cottage in the centre of Midhurst, opposite the Spread Eagle. Eaglet Cottage can be booked for periods from 2 days upwards and accommodates 4-5 people.
Midhurst Holiday Let
126 Little Todham, Selham Road, Midhurst,West Sussex. GU29 0BU
Tel: 01730 814991
Burgage House
Bed and breakfast in Knockhundred Row, Midhurst
Loves Farm
Bed and breakfast at Easebourne Street, Midhurst
Amberfold
Bed and Breakfast at Heyshott
Bepton Garden Flat
The Coach House, Bepton, Midhurst, West Sussex GU29 0HZ
Telephone: 01730 812351
If all the rooms in Midhurst are full up, you can also find out more about Chichester Hotels and Bognor Regis Hotels at Sussex Hotel Guide or look at the West Sussex hotel guide.